This here is why I do what I do.
I met Mike and Dillon 10 years ago when they booked their first trip with me. Dillon was to little to pull the bow back then but it did not stop Mike from bringing him along That day.
On this trip it was really cool to see them shoot side by side.

I had to sit back and think of all the years that I have been at this journey. How I started and where I am at today. The people / friends I have met along the way.

Thank you to all my clients for making it possible. ... See MoreSee Less
awsome! love hearing these things!!
Time flies by buddy! It's been a great 10 years and I loved being able to bring him back out on your boat after all these years and see him be able to shoot his first ray! Thanks again for another great trip! Hope to do it again, my daughter is 3 now so it'll be her turn in another two years.
Load more
DUSK TO DAWN FEATURED VIDEO!!!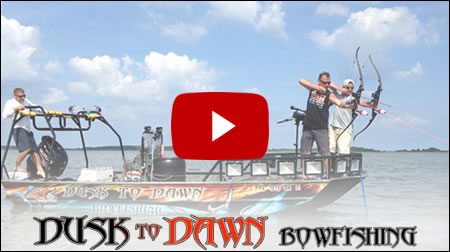 Click Here to view more Dusk to Dawn Bowfishing Videos and Pictures
BOOK A MARYLAND BOWFISHING TRIP!!!
DUSK TO DAWN BOWFISHING PARTNERS…