DUSK TO DAWN BOWFISHING TESTIMONIALS
Bow fishing with dusk till dawn is an absolute thrill!  It quickly became a yearly and much anticipated adventure! Marc is a great guide who did his best to get us on sting rays and the boat and gear is very nice and comfortableto use. I know with out a doubt we will be back again!
~Gene Martin
I've been bowfishing for many years and I saw Dusk To Dawn on T.V. going after rays and I knew my friends and I had to do it. I was not disappointed! Marc was professional, had a great boat and great equipment. I have gonetwice now and would recommend Dusk to Dawn to anyone!
~Elton Owsley
Hunting with Marc was a blast! As avid bowfishermen, Marc showed us we still have a lot to learn. His equipment, boat, and service were all first rate. Marc really made it a fun trip for everyone.
~Mike, Marc, Joe, & Carl
Just wanted to take a second and thank you for the memories and great times we have had with you on our trips. Before that first trip I didnt know what to expect and was alittle concerned with Wyatt being so young, I know some people dont deal well with kids. Well it didnt take long to know we were in good hands. We have had a blast everytime out with you and dont get out of the ramp parking lot before Wyatt is asking when we can come see Mr. Marc again. We cant wait til spring to come up and chase some fish with you.
~Brian and Wyatt Ball
In my 30 years of bowfishing Marc has one of the nicest rigs I have ever been on. Marc is one of the best guys I have had the pleasure of shooting fish with and one of the few crazy enough to want to go out bowfishing at night in January in Pennsylvania!
~Steve Young
My wife and I had never been bowfishing when we booked our first trip for rays with Marc. He had us on the rays all day and he patiently helped us and taught us until we got the hang of shooting the bows and using the gear . In no time, we were boating rays and WHAT A BLAST! After that, we were hopelessly addicted. We have been outon three trips with Marc now and he is a true professional. He has always had us on the rays and his boat and equipment are top notch. Bowfishing for rays with Marc is an absolute thrill and I can't wait for the next trip!
~Darren Kluttz
I always wanted to try bowfishing, but never did until I won a bowfishing package and a trip with Dusk to Dawn Bowfishing. I just never knew it would be so much fun. Fishing with Marc that evening was none stop action from the time we climbed into his well prepared boat, to the time we headed back to the boat ramp.My two friendsand I had almost; none stop action shooting fish, which I don't know how to describe. I don't know any other outdoor adventure where you can shoot for the entire trip. And Marc is a true professional from the way he found fish even in dirty water, to his equipment and boat. He had my friend from Texas shooting fish and he rarely shoo ts a bow. Marc is a great guy to be on the water with, from his expertise in bowfishing to his good natured competion he started between us. Fishing with Dust to Dawn is worth the price of admission. We already contacted Marc to set up a return trip. Even my friend from Texas wants to make the trip to PA to fish with Marc again.
For anyone who was like me and thought this couldn't be any fun, you need to give Marc a call and book a trip. You have no idea what you're missing. Thanks Marc.
~Gary Loder
This was my first bowfishing trip and I had the experience of a lifetime. Marc worked extremely hard to keep us on the rays allowing us to kill several. I already have a second trip booked and am looking forward to another great hunt. I would recommend bowfishing to anyone, even non-hunters. Dusk to Dawn is one of the best outfitters I've hunted with.
~Sam Eyler
This was my very first ever bow-fishing trip, and I surely didn't know what to expect. I can tell you that Dusk to Dawn Bow-fishing has excellent equipment, and the professionalism of Marc is superb. My husband and I, along with many of our friends, will definitely be planning more trips with Dusk to Dawn. Everyone just has to try this!!!!!"
~Rachelle Gross , Hagerstown, MD
Thank you for an amazing time. Both my father in-law and I enjoyed every minute of it. We definitely will be back for more and we will bring friends.
~Eugene Gershman
I can honestly say that I was overly impressed with the Dusk To Dawn Bowfishing experience. By the time it took me to gather a few of my things and find my sweatshirt, Marc had already unloaded the boat, parked the truck and was waiting for me at the dock. Within a few minutes we were heading across the water. For every one fish I hit, three were missed. I easily got off over 100 shots during the night and never went more than a few minutes without seeing or shooting a fish. Prepare for your arms to be sore the following day. You don't have to worry about getting too dirty as every time I connected on a fish Marc helped get them in the bucket and I went right back to shooting. The gear and equipment provided are all brand-new in appearance and works flawlessly. The Sea Ark boat set up is also impressive as it has a large shooting platform on the front of the boat along with railings to lean on while preparing to shoot. Only drawback was a little generator noise, however, neither the fish or I seemed to mind. The boat is extremely stable and smooth running. I placed my cup of coffee on the floor of the boat when I got in that night and it was still upright when we returned.
Professionalism is beyond reproach and it was clear from the experience that he takes his business and his clients seriously. Light refreshments were provided and the company and conversation ware appropriate for any outdoorsman. I would sincerely recommend that you give Marc a try if you're contemplating trying out this sport. The value in relation to the experience is exceptional. I will definitely be a repeat customer. You have to try this!!!!"
~Jeff Banner, Pittsburgh PA
"Marc, I just want to let you know personally that all four of the trips that I have been on with you were memorable occasions! Pictures are worth a lot, but the experience with you and your awesome boat/setup is definitely considered priceless!
The first trip I booked with you – I used my target bow (this didn't last long) – then, WOW, you handed me a bow with no sights? I thought the night was going to be very long…until I shot a 2″ catfish with one shot! AMAZING! – I was hooked definitely!
The second trip – WOW what a night! We shot some amazing fish – and you even offered to let my girlfriend try -definitely made her day!
The third and fourth trips were for Stingrays (cow nose and southern); you definitely know where the fish are !Your equipment was top notch and I would definitely recommend you to anyone who is interested in the sport! -Keep up the great work!
~Gary Wagner Jr.
Just wanted to send out a huge thanks to Marc of Dusk to Dawn bowfishing. We have been wanting to shoot rays for along time now and Marc over and exceeded our expectations and was very professional. Thanks for the great trip Marc and we will be back sooner than ya think. Oh ya it was also pretty cool to get a ray that was almost as big as our guide!!!!! HaHa!!!!
~Jesse Washkoviak, Owner –
We hunt and fish with outfitters from all across the country and I can say unequivocally that Marc and Dusk toDawn Bowfishing were among the most professional services we have had the pleasure of working with. Marc and his help were friendly, organized, hard working, and extremely diligent in tending to the many needs of a television crew and their equipment was top-notch. What Marc said he would deliver he did-tenfold
~Justin Karnopp ,Producer – Arrow Affliction
"As a Serious bow-hunter and a avid outdoorsman, there is something that takes place in the heart of a hunter, when the seasons come to a close . It is a moment of sadness. What are we going to do now, until the next season comes in?
I asked that Question a lot, always looking for that next adventure. Well I found It when I met Marc with Dusk to Dawn Bowfishing. Talk about fun and adventure.
I had never bowfished before meeting Marc. The experience was great. I shot my bow so much that I got tired of shooting. I had such a great time that I needed to share the experience with someone else, so I invited my brother Troy Groves to go with me. He also had a great time and shot alot of fish. My brother and I both enjoyed spending time in the outdoors with our families.
We both have girls. We decided to take them on a bowfishing trip with Dusk to Dawn. I can not say enough about how well the girls were treated and how willing they were to work with the girls so that they could shoot fish as well, and yes they all shot fish. There ages where from 11 to 14. Dusk to Dawn is top notch!"|
Tracy G. Groves, Heartwood Outdoors
DUSK TO DAWN FEATURED VIDEO!!!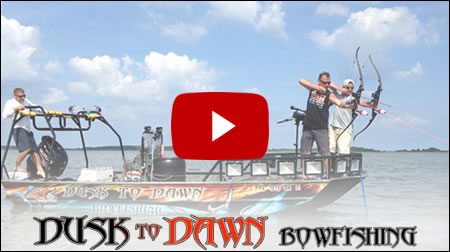 Click Here to view more Dusk to Dawn Bowfishing Videos and Pictures
BOOK A MARYLAND BOWFISHING TRIP!!!
DUSK TO DAWN BOWFISHING PARTNERS…