WHAT TO EXPECT ON YOUR TRIP WITH DUSK TO DAWN BOWFISHING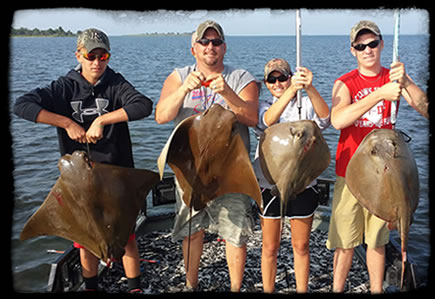 Trip Information:
Stingray trips can be done day or night and river trips are done at night. Besides the numerous species of fish, there is a lot more to see when the water settles at night, i.e., ducks, birds, mink, turtles, etc. Dusk to Dawn stingray and river fishing trips are done on the Eastern Shore of Maryland.
Trip Time:
Your trip will start out by meeting at the location the boat will launch from. The bows will then
be set-up for each individual followed by an explanation on how they operate. At this point
the boat will push off and be heading toward the first shooting area. Specific details will be
given on aiming at and retrieving a fish. After a few practice shots, the party will begin
bow-fishing. On a good trip your arms and fingers will have had enough by the time you are
done. At the end of the trip, the fish will be laid out for pictures which will be sent to you via
email. You are welcome to keep any fish that you shoot just be prepared to take them home
with you.
Weather Conditions:
Rain and uncontrollable weather conditions will be handled by rescheduling.
Refreshments:
Light refreshments will be provided and you are welcome to bring any snack or non alcoholic beverage that you may want.
Attire:
Wear OLD clothing. It is not a bad idea to bring an extra set of clothing as it is common to get dirty by putting a fish in the barrel.
Payment Info:
Please make all checks payable to Marc Spagnola.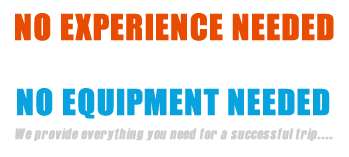 DUSK TO DAWN FEATURED VIDEO!!!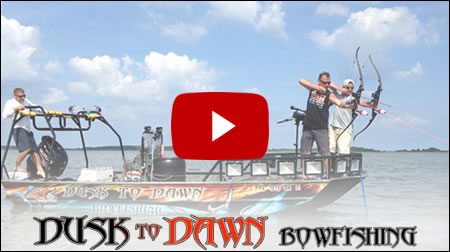 Click Here to view more Dusk to Dawn Bowfishing Videos and Pictures
BOOK A MARYLAND BOWFISHING TRIP!!!
DUSK TO DAWN BOWFISHING PARTNERS…